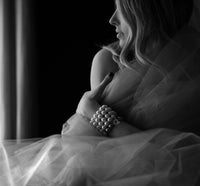 The Anne Baker Collection
Anne Baker fine jewelry is for women with multi-faceted lives and style. The collection signature is a modern and refined reimagining of pearls. With a soft glow famously flattering to the complexion, pearls are also the ultimate outfit transformer.
Embrace this versatility with Anne Baker's beautifully wearable take on classic styles. Add polish to a casual look, soften a smart outfit, or layer up for impact.Self-expression is at the heart of the collection, with each piece designed to complement and enhance your existing jewellery and style.
Creamy pearls are punctuated with crisp diamond and colored gemstone accents, featuring heart motif details as a reminder of self- love.
Crafted in New York to with beautiful attention to detail, these pieces will fall effortlessly into your collection and stay there for life.
Anne Baker
Behind Anne Baker fine jewellery lies a truly transatlantic inspiration story. Designer Anne has spent her lifetime soaking up the design and fashion of London, New York and California.
From this she takes a fusion of influences; the edgy fashion of London, the cool polish of New York and the laid-back Californian lifestyle. The resulting collection is original, versatile and full of personality.
With her background in fashion design, Anne designs jewelry in synergy with style. And as a lifelong fine jewellery aficionado she has sought the finest craftspeople to bring her vision to life. Each piece is made to a high-jewellery specification in quality and attention to detail.